I was recently enjoying a casual bus stop Tinder scroll when I received a curious Instagram DM slide, halting my left swipe flow. "Hi, I got your Instagram from your tinder bio. Was wondering if I could possibly be able to give you money for a certain item of your clothing?"
Thanks to Orange Is the New Black season three, in which Piper starts a dirty-panties business, stitches up Ruby Rose, and subsequently becomes a white supremacist, I know of the supposedly hungry market for used underwear floating around the crusty side of the internet. Many people (mostly men) obtain great pleasure from inhaling the musky scent of dirty panties while they masturbate. You've probably heard about the used-underwear vending machines in Japan, and the UK has its own thriving 'soiled-to-order' trade.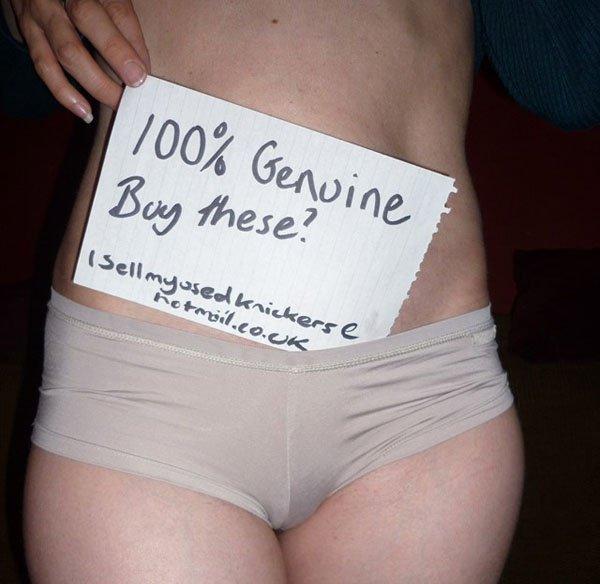 News that this underwear fetishism business had now moved, like everything else, to the Instagram DMs, did not come as a shock. But never in my wildest dreams did I believe my Tinder profile could be so enticing as to trigger one such panty huffer to get in touch, offering an open wallet and heart.
Whether or not I took him up on his offer, I'll leave up to your imagination. All I can say is that living in London is, like, reaaaaally expensive. Also: To be a journalist blessed with a panty sniffer's Instagram DM and not reply requesting an interview is to look a gift horse in the mouth. So, I sent him some questions. These, ladies and gentlemen, are the yellowing brief fetish FAQs, between me and my generous admirer (let's call him Woody*.)
VICE: When did you buy your first pair of used underwear?
Woody: If I remember correctly it was back in 2012, when I was 20.
My favourites at the moment are two pairs that I received last year from two different girls. One pair is a black thong which had some pee added to the package before sending. The other pair is a nice pink thong which was just worn for two days but was able to get everything I wanted. They had a dirtiness and strong smell, and when I received them they were still fresh. I would take this pair out from all the rest.
*OFC his name is not really Woody. Anonymity for panty sniffers, baby! Sign up for our newsletter to get the best of VICE delivered to your inbox daily.