Nancy Salzman, the Nxivm "prefect," left 20 years of "trauma and destruction" in her wake, a judge said on Wednesday.
For 20 years, Nancy Salzman and Keith Raniere were business partners and allies who promised to improve people's lives.
They led the self-help organization that they co-founded in the 1990s as it grew into the cultlike group Nxivm, and when it fell apart in 2018, Ms. Salzman and Mr. Raniere became co-defendants, accused of running a criminal enterprise that subjected women to sexual abuse.
Mr. Raniere was convicted on several charges and sentenced to 120 years in prison; Ms. Salzman pleaded guilty to a single count of racketeering conspiracy, and former Nxivm members have described her as an enabler who made Mr. Raniere's abuse possible.
But as Ms. Salzman's sentencing hearing approached, she sought to publicly distance herself from Mr. Raniere. In a letter to Judge Nicholas G. Garaufis, Ms. Salzman's lawyers portrayed her as Mr. Raniere's dupe, writing that she had been "fooled, controlled, humiliated, and ultimately led to engage in criminal conduct by an egotistical, self-important, sex fiend."
But Judge Garaufis did not appear to be persuaded, and on Wednesday Ms. Salzman was sentenced to 42 months in prison - slightly more than the sentence prosecutors had sought.
Before being sentenced, Ms. Salzman made a statement to the court in which she said that under Mr. Raniere's influence, she had begun to "rationalize and overlook the wrongdoing around me."
"I apologize to everyone I hurt, intentionally and not," she added. "I don't know that I can ever forgive myself."
Judge Garaufis acknowledged that Ms. Salzman had been the first of Mr. Raniere's co-defendants to plead guilty. But he also said that she had shared power with Mr. Raniere, facilitated his crimes and betrayed and harmed others.
"You positioned yourself alongside Mr. Raniere atop the Nxivm pyramid," he said, adding: "In 20 years at Mr. Raniere's side, you left trauma and destruction in your wake."
In the more than two years since her guilty plea, Ms. Salzman had largely escaped the attention paid to co-defendants like the liquor heiress Clare Bronfman, who refused to disavow Mr. Raniere, or Allison Mack, who was described as having inducted women into a clandestine group of "slaves," some of whom were directed to "seduce" Mr. Raniere and branded with his initials.
But as Ms. Salzman's sentencing approached, former Nxivm members began speaking out. They described her as indispensable to Mr. Raniere's control of the group and said she had played a central part in crafting his philosophical ideas into teachings that spread Nxivm's code to followers.
Among those, according to testimony in Mr. Raniere's trial, were precepts that portrayed woman as inferior and categorized anyone who questioned the group's structure as destructive.
Prosecutors had asked for a sentence at the upper range of the 33 to 41 months calculated according to federal guidelines at the time of Ms. Salzman's guilty plea in 2019.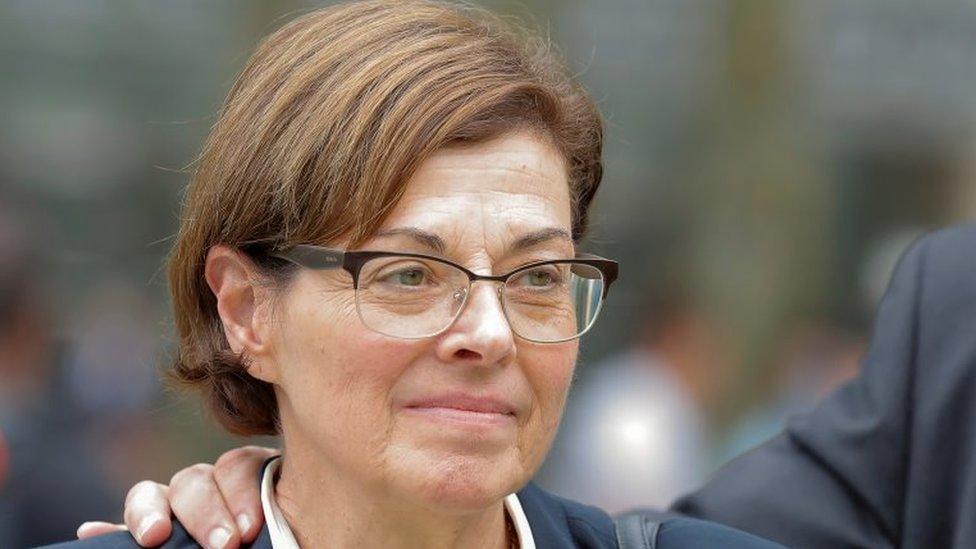 In their sentencing memo to Judge Garaufis, they enumerated the crimes committed by Ms. Salzman, who served as Nxivm's president and was known within the group as Prefect.
She had taken part in unlawful surveillance and investigation of Nxivm's perceived critics and enemies, prosecutors wrote; had sought banking records belonging to some of those people and had altered evidence to be produced in a lawsuit in New Jersey.
"The defendant exalted Raniere's teachings and ideology and demanded absolute commitment and deference" to him, the prosecutors added. "Raniere's teachings, which Nancy Salzman helped to create and promote, were designed to maintain power and control over Nxivm members."
Defense lawyers had asked for a sentence of two years home confinement, saying Ms. Salzman accepted "responsibility for enabling the horrific crimes Raniere committed, even where she lacked any knowledge of their commission or nature."
They also said she suffered from "debilitating physical pain" and "emotional anguish," due in part to exposing her daughter, Lauren Salzman - who became a member of Nxivm and also pleaded guilty to charges related to the group - to Mr. Raniere's "sadistic attentions."
Ms. Salzman's lawyers added that she now cares for her mother, who is in failing health and would be "gravely impacted by her incarceration."
Some of the former Nxivm members who criticized Ms. Salzman in letters to the court or in interviews said they feared she would minimize her role within the group in an attempt to escape accountability.
One such person, Ivy Nevares, wrote to the court that after Mr. Raniere sexually assaulted her, Ms. Salzman had told her she was lucky. Ms. Nevares also described what she called Ms. Salzman's "abusive role" as a coach and teacher.
"As prefect, she had the second most powerful and exalted status: We bowed to her, we thanked her as a ritual at the end of every class and stood when she entered or exited a room," Ms. Nevares wrote. "But as a teacher, she was brutal and punishing, often using public humiliation and verbal abuse to quash dissent."
In court on Wednesday, victims offered impact statements in person and through audio and video recordings.
Two former Nxivm members, Susan Dones and Mark Vicente, said that Ms. Salzman had acted as an enforcer, unleashing a "wolf pack" of followers to intimidate or punish critics within the group.
And Toni Natalie, one of Mr. Raniere's former girlfriends, said Ms. Salzman "propagated lies that Vanguard, as Mr. Raniere was known, was a celibate monk."
Another speaker was a woman identified in court proceedings only as Camila, whom prosecutors said Mr. Raniere began sexually abusing when she was 15. She told the court that Ms. Salzman had failed to use her influence within Nxivm to protect younger women and girls because she was more interested in pleasing Mr. Raniere.
"People idolized her and gave such weight to her opinion that it was never questioned," Camila said, "It was her job to keep her community safe."